Good Afternoon #BeautyBagDolls
I have a major deal alert for all of you coming from
www.qvc.com
and my favorite brand of cosmetics that is sold there IT Cosmetics! IT Cosmetics by far makes the best makeup brushes out there and I do own a few! While they are pricey they are well worth the cost because even if you use them daily and wash them weekly (which you should) they NEVER loose a hair! I will include the details of this deal!
IT Cosmetics Heavenly Luxe Complexion Perfection Brush Duo Item Number: A274405 Retails for $39.50 on an Event price on QVC.com right now for $32.64 (this is a bargain) I say buy 2 right now! I am buying for myself and as gifts for Mothers Day! They retail for $96.00 if sold separately!

This set includes:



Heavenly Luxe Complexion Perfection Foundation/Concealer Brush
Heavenly Luxe Wand Ball Powder Brush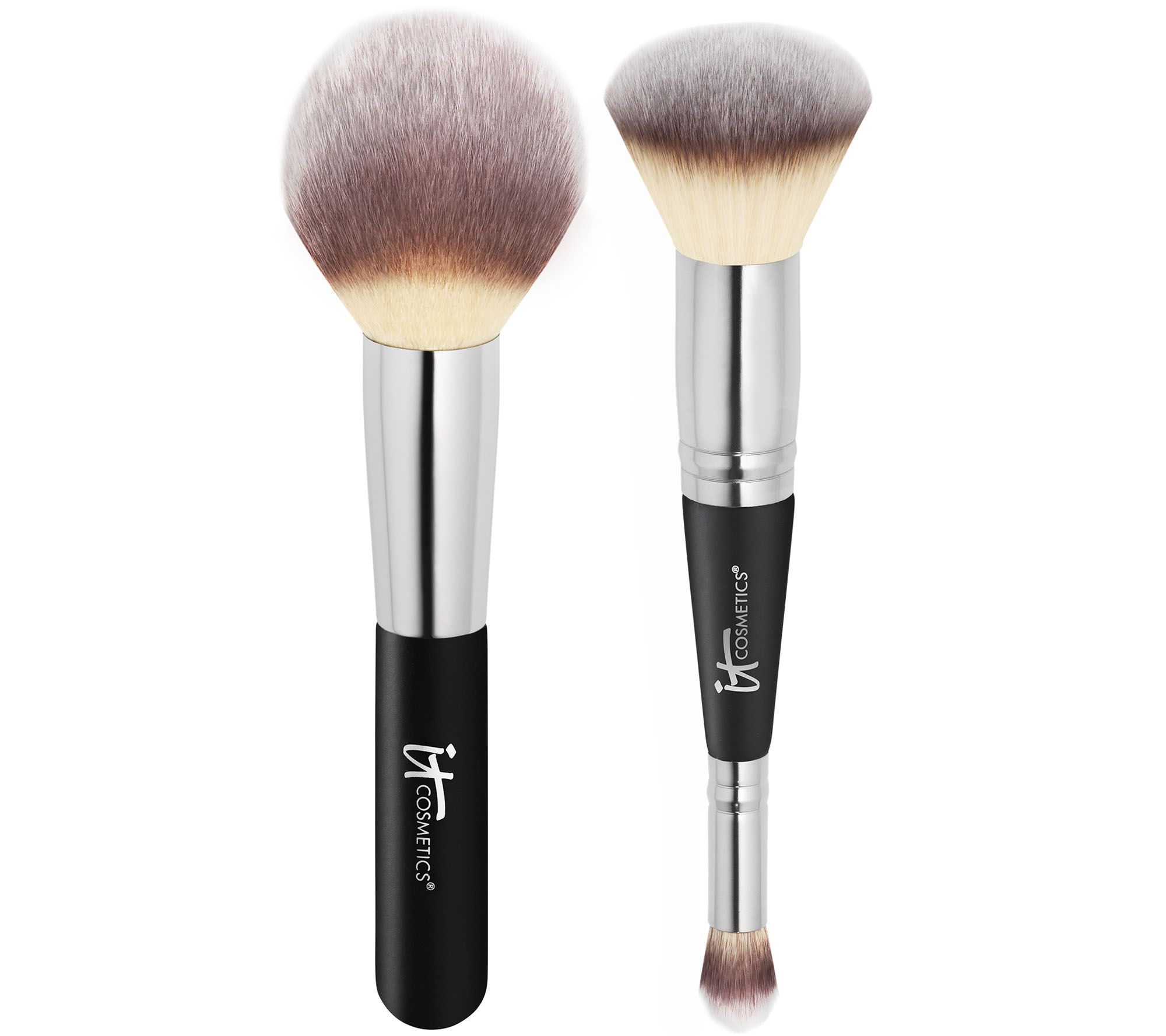 Beauty Bag Musts! Also If you have not heard about becoming an IT Girl Superhero you will learn about it now and to join click this link here @

http://sot.ag/4QqgY

all you have to do is enter your information including your address and you will get a free Mini IT Cosmetics Superhero Mascara for joining the IT Girl Superhero team! On top of that you will be entered to win prizes of full size IT Cosmetics! Here is my link to sign up now @

http://sot.ag/4QqgY
They work amazingly on perfecting your makeup and applying everything evenly! I encourage all of you to try IT Cosmetics brushes they are hands down the best beauty tool out there! This is a event price that will not last for ever at
www.qvc.com
Here are some additional details:
Why is it different: Custom-cut and so soft on your skin, these ultra-luxe, ultra-plush, 100% synthetic brushes are designed to distribute your favorite cosmetics evenly. The Heavenly Luxe hair airbrushes on your favorite makeup products, giving you flawless-looking skin! IT Cosmetics believes a great brush is worth its weight in gold and you will see why the first time these touch your skin.
How do I use it: Use the larger side of the foundation/concealer brush for an allover application of your coverage products. The smaller end can be used for more precision application and targeted coverage.
Use the Wand Ball Brush for even application of powder formulas. Swirl into your favorite powders, gently tap off any excess, and dust on your skin.
Direct link to QVC to purchase here @
http://www.qvc.com/IT-Cosmetics-Heavenly-Luxe-Complexion-Perfection-Brush-Duo.product.A274405.html?sc=A274405-Targeted&cm_sp=VIEWPOSITION-_-71-_-A274405&catentryImage=http://images.qvc.com/is/image/a/05/a274405.001?$uslarge$