#BeautyBagDolls I have a great little sneak peek of the upcoming Laura Geller Today's Special Value on QVC happeing on December 16, 2016 starting at 12AM and happening for one day only. It is the
Laura Geller Lights of Venice 8-piece Color Set
and the cost is $59.94 plus $3.00 S&H The price is great for everything you get and if you are already a Laura Geller fan this is a great way to get more of what you love or buy it as a gift for a friend or family member to introduce them to baked quality makeup. Item number
A291546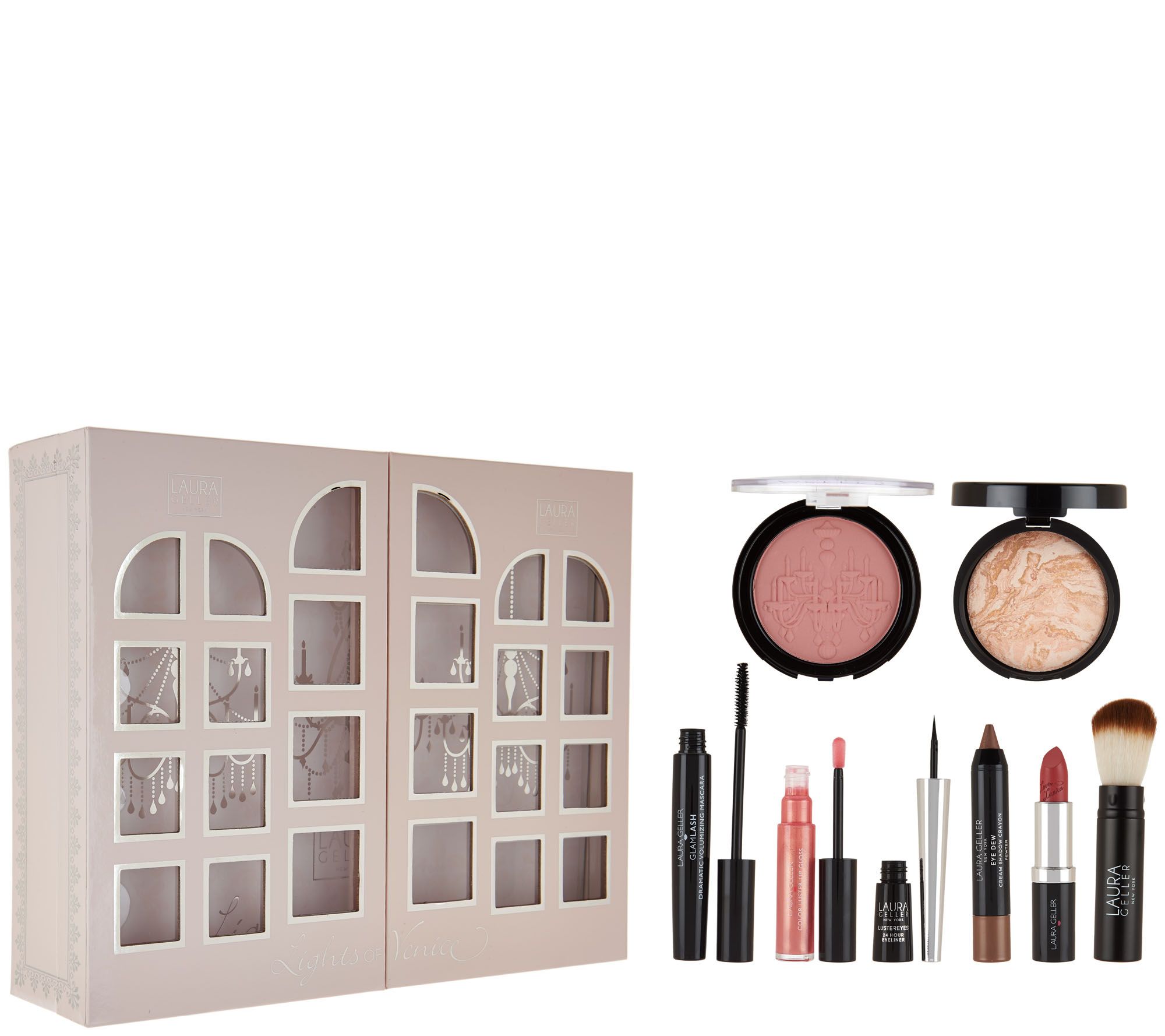 What you get is:
1) .28 oz
Baked Balance N Glow
in choice of Porcelain, Fair, Medium Tan or Deep
1) .32 oz Baked Chandelier
Blush
1) .07 oz Eye Dew Cream Shadow Crayon in Pewter
1) .14 oz
Color Enriched Lipstick
in Pink Mink
1) .21fl oz
Color Luster Lip Gloss
in Venetian Lights
1) .28 oz Glamlash
1) .08 fl oz LusterEyes Eyeliner in Black
1) Retractable Powder Brush
This truly is a full face of makeup and the coverage is there from the Baked Foundation my advice to you is to note to try to pick your shade carefully. I have almost everything offered in this kit and I recently purchased the Glamlash (review coming soon) its a tough call on whether I really like it (its a little too clumpy) I feel like in every today's special the same old foundation is offered nothing new is brought to the game and for me I need something new when it comes to my coverage. The retractable brush in this kit is one I have and loath it does not apply the foundation well at all and after washing it just once it fell apart. While I love almost everything from Laura Geller I am little bit bored by this TSV and I will pass on purchasing it. But if you are low on anything in this kit you should purchase I have about 4 Baked Balance foundations and only one is hitting the pan and my blushes last forever. I am curious about the Eyeliner because hers is my favorite hands down! The price is amazing for what you get so happy shopping and let me know what you think?
As Always;

FYI: I reviewed several Laura Geller products just search Laura Geller in the search bar or type in the product you wish to search.