OMG! #BeautyBagDolls and #ITGirls I have found a great deal for you available right now on QVC.com I was doing a little shopping on QVC and browsing through the It Cosmetics section seeing what I can pick up and this immediately caught my eye! You have a choice of one of three brush sets from It Cosmetics or you can get all three and at $44.00 for the set it is mind blowing good deal. ($3.00 S&H) The item number is A280486 or the direct link is
here
Let me show you your choices in detail:
Choice one: Blush & Contour Essentials Collection:
Swirl the French Boutique Brush into pressed or loose blush, and then softly apply in upward sweeping motions from the apples of your cheeks to the outer edge of your cheek bone. Follow the included how-to guide for the You Sculpted! Brush.
Choice 2: Complexion Brush Essentials Collection:
Use either end of the Complexion Perfection Brush to apply foundations using circular motions. For the Wand Ball Brush, begin by swirling into loose or pressed powders and then softly apply in upward sweeping motions.
Choice 3: Eye Essentials Collection:
Use Build-a-Brow Brush to apply soft and feathery strokes following your natural brow shape, filling and building sparse areas. Lightly brush through brows with spoolie end for a natural-looking, polished finish. With the Tightliner brush, start at the root of your lashes, wiggle and sweep wand through to the tips of your lashes. Finish by pressing the wand along the base of your lash line to fill in the gaps and make your lashes look longer and thicker! Swirl the Eyeshadow Brush into pressed or loose eye shadow and softly apply in sweeping, motions over your lid. Use the large flat side for allover application. To use as a crease brush, turn the large end sideways, using back-and-forth windshield wiper like motions. Use the smaller smudge brush end below your lower lash line for gorgeous thick or thin airbrushed liner effect.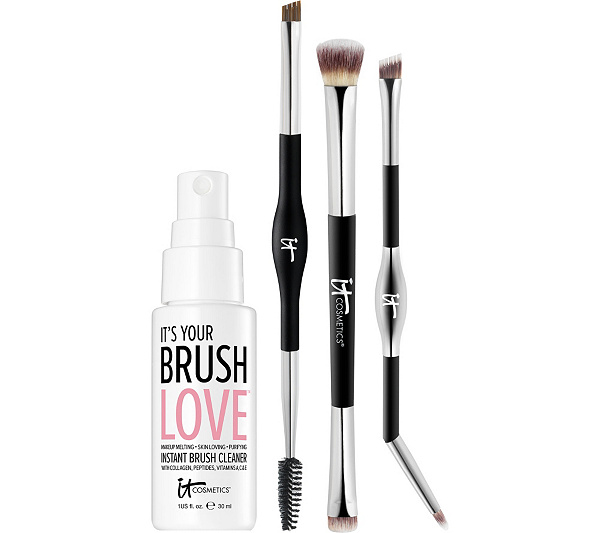 I have review of the Contour brush
here
and the Eye Shadow brush
here
I love the It Cosmetics brand and their brushes are by far my favorite! I own a few of these and above are the ones I have reviewed! I will review more as I receive my sets from QVC.com that I just ordered so stay tune but don not hesitate they are the must lux makeup brushes I have ever used! The item number is A280486 or the direct link is
here
To join the IT Girl Superheros and to win prizes each month and free samples sign up here
@
http://sot.ag/4QD7p
I have reviewed several It Cosmetics products so please search It Cosmetics in the search bar to read other reviews.